Help, the Cathedral is crumbling!
Berlin Cathedral and the German Foundation for Monument Protection (Deutsche Stiftung Denkmalschutz) launch first joint donation campaign for façade restoration
At first glance, Berlin Cathedral looks splendid and beautifully preserved – but the opposite is true. The over-one-hundred-year-old building is disintegrating and crumbling everywhere. The cathedral parish became aware of the extent of the damage last year while restoring the bell tower at their own expense. From the scaffolding, many more cracks, leaking joints and crumbling pieces of rock than previously suspected could be seen for the first time in the façade, decorative elements and figures of Berlin's largest church.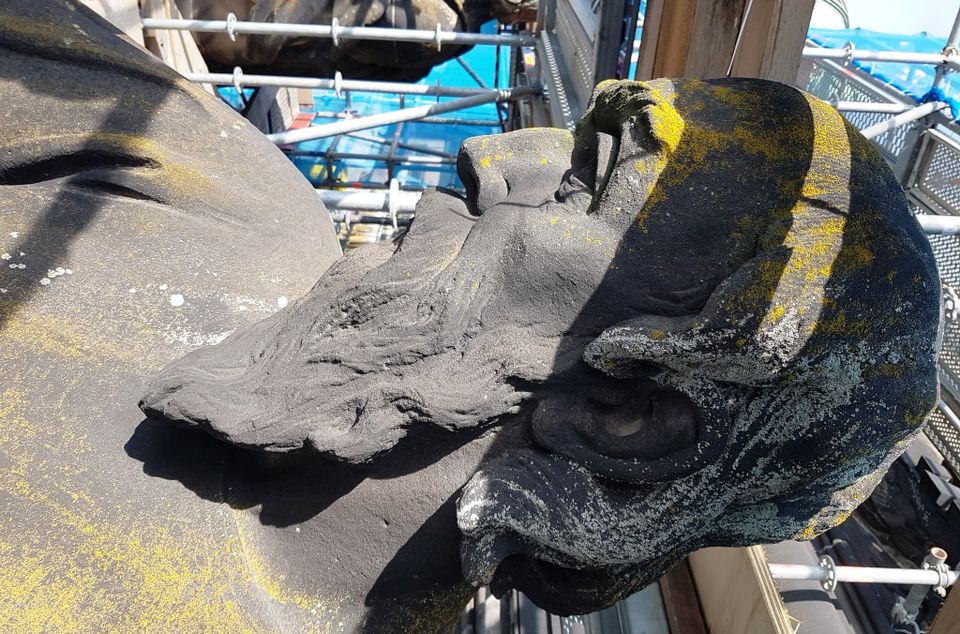 The black encrustations of soot, rubber grit and dust that have accumulated on the sandstone in recent decades are some of the factors to blame for the deterioration, as they prevent the stone from 'breathing'. The black layers must therefore be removed as quickly as possible, and cracks and leaking joints sealed. The total costs of these repairs amount to 1.6 million euros, spread over four years.
It is impossible for the cathedral parish to raise this sum alone. The German Foundation for Monument Protection has therefore agreed to support Berlin Cathedral with funding and a nationwide fundraising campaign. Actress and singer Eva Mattes has taken over the patronage of the project.
On the website of the German Foundation for Monument Protection, you can donate to the joint campaign directly online.
Link to the online donation page of the German Foundation for Monument Protection