Berlin Cathedral's great 'Sauer' organ was designed and realised during the building's construction, and is thus part of the original artistic fittings and fixtures.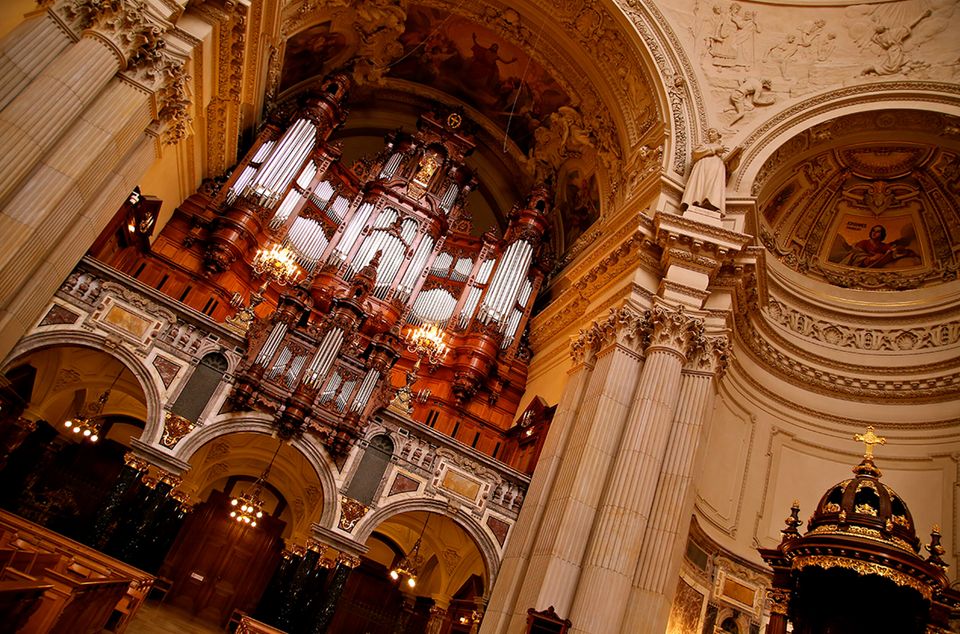 At its inauguration in 1905, the organ was considered to be the largest in Germany with 7269 pipes and 113 registers, which were spread across four manuals and pedals. Organ designer to the court, Wilhelm Sauer, from Frankfurt/Oder created an instrument that, at the time, embodied the latest in technological and musical innovation to be found in German organ design.
The organ thus met the high standards set by the awarding authorities and the organ designer: at the Evangelical Cathedral in the capital city of Berlin, it was envisaged that a prestigious, modern and exceptionally high-quality instrument should deliver a beautiful sound.
The Berlin Cathedral organ embodies the pinnacle of design efforts by Sauer, and also signals the end of the long-term development of Romantic orchestral organs, whose tonal characteristics were a perfect fit with the Symphony Orchestras of the time.
Today the organ found in Berlin Cathedral is the largest preserved organ in its original state, dating back to the 'Late Romantic' period.
In our Cathedral shop visitors can purchase numerous CDs with recordings of the 'Sauer' Cathedral organ, e.g. the CD entitled 'Old Masters' ('Alte Meister') as performed by Cathedral organist Andreas Sieling. A few audio examples can be found in our media library.
You can discover more about Berlin Cathedral's organs here.
---