Important information for your visit to the cathedral:
Since March 2020, the Hohenzollern Crypt has been closed for extensive construction and renovation, probably until autumn 2024.
With funding from the State of Berlin and the Federal Ministry of Culture and Media, the Hohenzollern Crypt and Berlin Cathedral will be made accessible without barriers and the burial site will be transformed into a dignified place of rest for the dead. In addition, the Hohenzollern Crypt, funded by the Conelsen Cultural Foundation, will in future have its own information area in which an interactive crypt model will provide detailed information about the Hohenzollern burial site and the coffin installation.

Detaillierte Informationen zu den Projekten: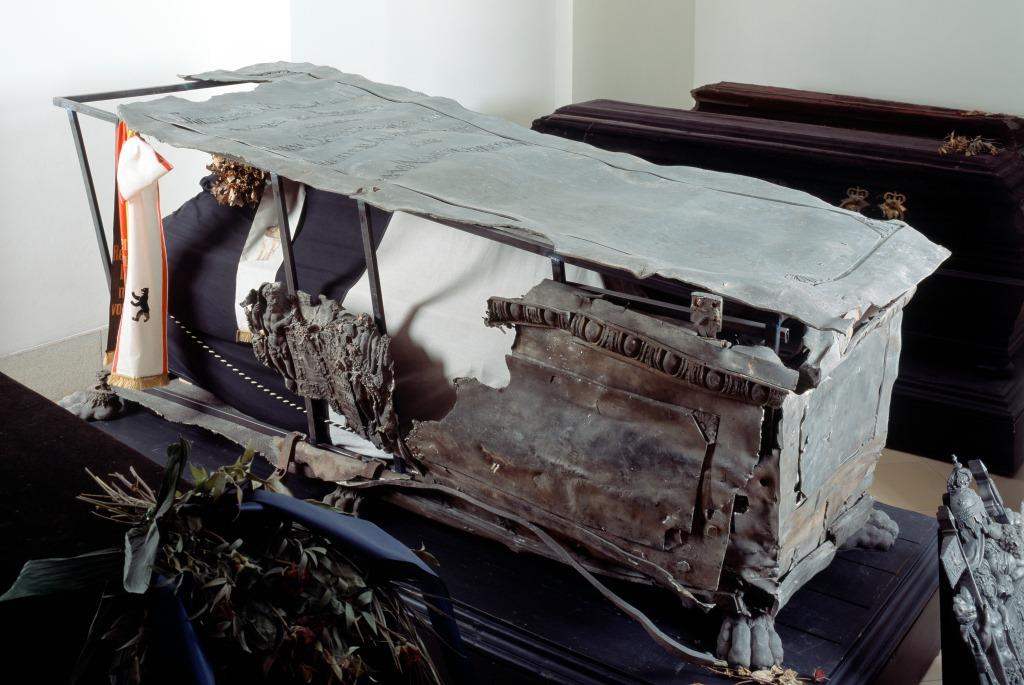 Obwohl die Hohenzollerngruft zu den bedeutendsten Grablegen Europas gehört, entsprechen ihr Zustand und ihr Aussehen nicht diesem Umstand. Mit den beiden Umbauprojekten wird sich das nachhaltig ändern. Nach langer Planungszeit und EU-weiter Ausschreibsverfahren war am 1. März 2020 Baustart in der Grablege. Die Umbauarbeiten dauern voraussichtlich vier Jahre.
---
The most important dynastic tomb in Germany.

The Hohenzollern family crypt in Berlin Cathedral is the most important dynastic burial place in Germany. In addition to the Capuchin crypt in Vienna, the Royal crypts in the Cathedral of St Denis in Paris and the tomb of the Spanish Kings in the Royal site of 'El Escorial' near the capital Madrid, it is considered one of the most important dynastic burial sites in Europe.Electors, Kings and their families, who played a decisive role in shaping the state and city of Berlin, are buried here. Elector Joachim II., Friedrich I., Elector of Brandenburg, his wife Sophie Charlotte and Queen Elizabeth Christine were given their final resting place here.
The Hohenzollern family crypt contained a total of 94 burials spanning from the end of the 16th century to the beginning of the 20th century, and documents 500 years of Brandenburg-Prussian grave culture with the stately sarcophagi and the burial monuments situated in the Sermon Church.
All artistic epochs since the late Gothic period can be traced in the tombs and coffins made of stone, metal and wood, in an array of detail that stretches between the austere and the opulent.
A particularly rarity are the wooden coffins covered with textiles including velvet and brocade.
The sarcophagus of Philipp Wilhelm. During the Second World War the Hohenzollern family crypt was also badly damaged by the collapse of the main dome and subsequent fire as a result of a bombing raid. Some of the coffins were almost completely destroyed.
The burial place has been publicly accessible to visitors since 20 November 1999. At that time approximately 400,000 tourists came; today, that number stands at nearly 720,000.