Celebrate worship with us!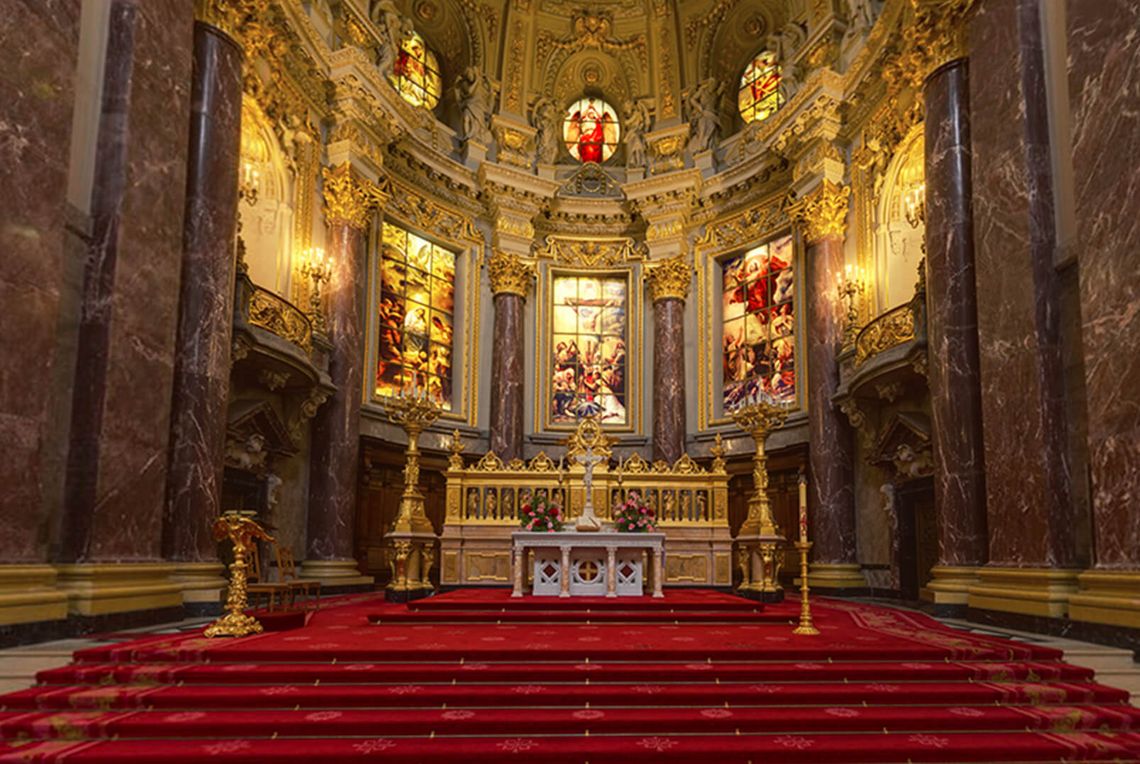 The Berlin Cathedral cordially welcomes you to the 10 a.m. and 6 p.m. services on Sunday, the vespers on Saturday at 6 p.m., and the daily noon services at 12 p.m. in our wonderful preaching church. Due to the regulations of the Berlin Senate and our internal circumstances, only a limited number of people are currently allowed to be present on site, this in compliance with the applicable protection and hygiene regulations. Anyone and everyone can celebrate our services and vespers with us connected via live stream on our website.
Our services are conducted on the basis of a protection and hygiene concept, which you can request on request (Tel.: 030 202 69 - 182 or by e-mail) or have our staff on site to view.
In order to protect you before, during and after church services, we ask you to observe the following regulations:
Worship services, vespers and devotions as 2G or 3G events:
Depending on the liturgical flow and vocal arrangement of our worship services, we will celebrate them as 2G or 3G offerings until further notice. Please check in advance on our website under the heading Dates or in the parish office to find out which arrangement will apply and what this means specifically for the evidence to be brought along.
Please maintain the required minimum distance of 1.5m from persons not belonging to your household at all times.
When entering, leaving, or moving within the Berlin Dome, please wear only an FFP2 or FFP3 mask (without valve). All other mouth-nose coverings are not permitted. This must be worn at all times, even in the square. This also applies to persons who have already been vaccinated, tested or recovered and those who present a certificate due to health impairment, handicap, etc. Only children under 6 years of age are exempt from this rule. Disinfectants will be available for you at the entrances and exits.
Please be there in time, the admission starts approx. 45 minutes before. Please understand that we can only grant access to the permitted number of visitors. Our staff will welcome you on site and instruct you: Please only occupy the correspondingly marked seats; redistribution of the laid-out seat markings is not permitted.
Due to the obligation of documentation, your personal data will be recorded on site in our visitor's pass (name, address, telephone number) and kept for 2 weeks on the basis of the applicable data protection regulations. Alternatively, you can also register via LUCA or Corona app.
Please do not be put off by these extensive regulations - we are very much looking forward to meeting you and celebrating worship with you.