A warm invitation to visit.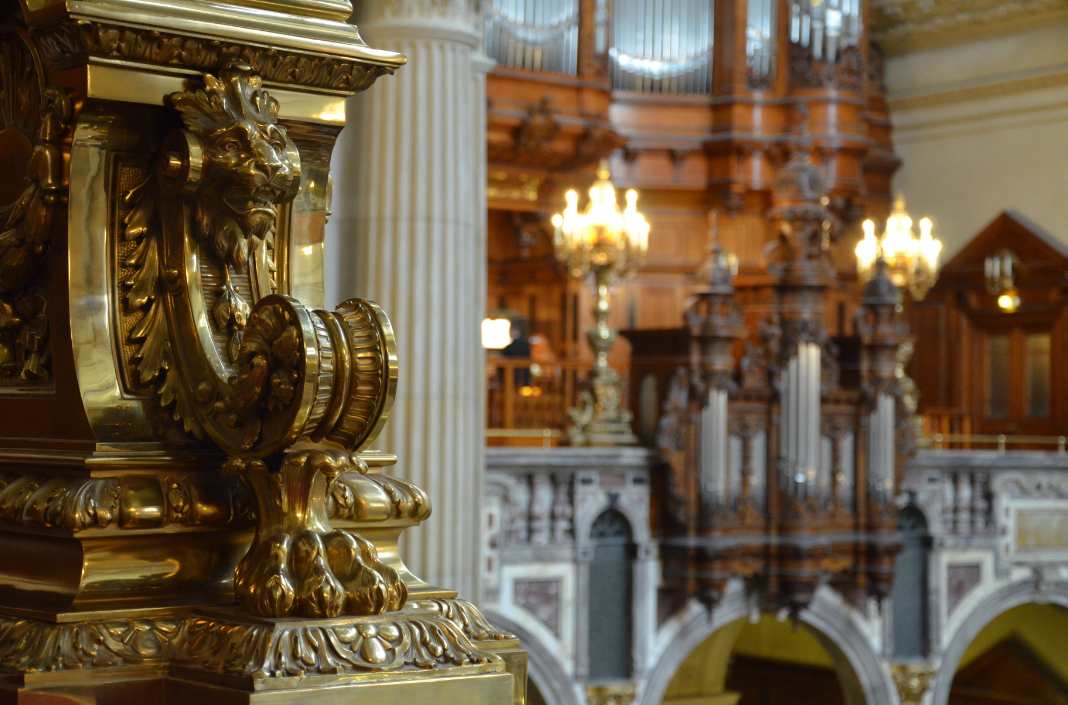 The Preaching Church, the Baptismal and Marriage Chapel and the cupola gallery are now open again for you to visit.
Monday - Friday: 10 a.m. - 5 p.m.
Saturday: 10 a.m. - 4 p.m.
Sunday: 12 - 4 p.m.
Last admission 60 minutes in advance.
Purchase your ticket right here, cash payment on site is currently not possible. Admission fee for adults is 9 euros, reduced 7 euro (upon presentation of appropriate proof). Accompanied children under 18 years of age are admitted free of charge.
The entrance to the cathedral is located in the Lustgarten, directly at the main portal. Due to renovation work, the Hohenzollern crypt cannot be visited until further notice.
The Berlin Cathedral will be opened on the basis of a protection and hygiene concept submitted to the Health Department, which you can request to view on request (Tel.: 030 202 69 - 182 or by e-mail: gaillard(a)berlinerdom.de) or ask our staff to show you on site.
In order to protect you before, during and after your visit, we ask you to comply with the following regulations:
All visitors must present upon admission (either/or):
1. vaccination: certificate of vaccination with a European Union-approved vaccine against Covid-19, the last required vaccination of which was at least 14 days ago.
2. recovery: proof of a positive PCR test at least 28 days and not more than six months ago or a positive PCR test more than six months ago and in addition at least one vaccination against Covid-19 at least 14 days ago.
Children/youth under 18 years of age: Pupils who are subject to regular testing as part of their school attendance provide proof by means of a pupil ID card or BVG card.
Children up to the age of 6 are exempt from the verification requirement.
People who cannot be vaccinated for health reasons: Presentation of a doctor's certificate of vaccination eligibility and a current negative PCR test (not older than 48 hours).
Only personalized digital certificates (QR codes also as printouts, no yellow vaccination cards) are valid as proof of vaccination. Furthermore, an official photo ID must be presented.
People with cold symptoms are already asked in advance not to appear in the Cathedral Church, neither as helpers, nor as visitors. They will not be granted access if they are visibly symptomatic.
Please maintain the required minimum distance of 1.5m from persons not belonging to your household at all times.
Always wear a medical mouth/nose protection mask (so-called surgical mask or FFP2 or FFP3 or comparable, without valve) indoors. Children under 6 years of age do not need a mask.
Disinfectants are available for you at the entrances and exits.
Our staff will welcome you on site and will be happy to answer your questions.
Please do not be put off by these regulations - we are very much looking forward to welcoming you to the Berlin Cathedral.