CDs of the Berlin Cathedral Choir
In recent years the Berlin Cathedral Choir has recorded a number of CDs, which can be purchased in the Cathedral shop or ordered from the Office of the Berlin Cathedral Choir. A few audio examples can be found in our media library.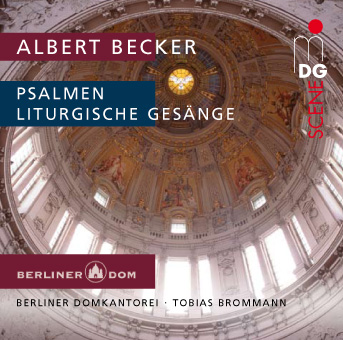 Albert Becker: Psalmen und Liturgische Gesänge
Als Zeitgenosse von Verdi, Bruckner und Brahms wird Albert Becker (1834 - 1899) heute zu den Komponisten der Romantik gezählt, wenngleich sein Werk bestätigt, dass er musikalische Elemente des Barock ebenso verarbeiten konnte wie die der Klassik. Im Jahre 1889 wurde er zum Leiter des Berliner Domchores ernannt. Es ist davon auszugehen, dass sowohl die achtstimmigen und die doppelchörigen Psalmvertonungen als auch die Liturgischen Gesänge für das Kirchenjahr op.46 in den Gottesdiensten des Berliner Doms erklungen sind. Nun hat die Berliner Domkantorei unter ihrem Leiter Tobias Brommann diese Gesänge aufgenommen. (erschienen 2008)
Chormusik zum Genfer Psalter (Doppel-CD)
"Alles Lob Gottes hat in den Psalmen seine Wurzel" - dieses Wort von Paul Ernst Ruppel umschreibt wohl am treffendsten das Anliegen des Genfer Reformators Johannes Calvin (1509 - 1564), der in seinen Bemühungen um ein vollständig gereimtes und mit Melodien versehenes Psalmenbuch nicht nur geistliche, sondern auch vielfältige pädagogische Absichten verfolgte. Es ist Calvin zu verdanken, dass in einem über viele Jahre andauernden Prozess ein Gesangbuch entstand, das sämtliche 150 Psalmen gereimt in französischer Sprache enthielt und das bald darauf auch in deutscher Sprache erschien.
Das neue Liedgut wurde von den im Glaubenskampf stehenden Hugenotten freudig aufgegriffen und fand - heute gern Hugenotten-Psalter genannt - durch sie große Verbreitung. Fast gleichzeitig mit der Herausgabe der neuen Melodien erschienen mehrstimmige Kompositionen in großer Anzahl, denen diese Doppel-CD gewidmet ist, auch wenn sie nur eine sehr kleine Auswahl enthalten kann.Neben heute noch bekannten Komponisten finden man auf dieser CD zahlreiche kleine Kunstwerke von fast vergessenen Musikern. (erschienen 2003)
---